Hunters of Dune
Par Fremen, jeudi 1 novembre 2007 à 21:43 :: Dune :: #48 :: rss
Hunters of Dune, de Brian Herbert et Kevin J. Anderson, est la suite de la Maison des Mères, dernier livre de la saga Dune écrit sous la plume de Frank Herbert. Cet article contient des révélations sur le scénario des derniers livres du cycle de Dune de Frank Herbert. Je préviens au cas où quelqu'un aurait commis le sacrilège de ne pas l'avoir lu.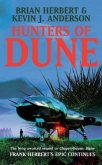 Après dix ans d'attente insoutenable, à ne plus pouvoir dormir la nuit sur mes deux oreilles de peur de voir arriver l'Ennemi, cauchemar de ces furies d'Honorées Matriarches, à avoir la disparition du non-vaisseau embarquant Sheeana et Duncan Idaho sur la conscience, à débattre sur l'identité de Marty et Daniel sans avoir le moindre indice pour confirmer les diverses théories, ou plus généralement à nous laisser dans l'ignorance totale sur tous les mystères ouverts dans les deux derniers tomes de Dune,
les Hérétiques de Dune
et
la Maison des Mères
, j'ai enfin eu une réponse à toutes mes questions. Ou presque. Oui presque parce que cette suite se divise en deux tomes, le second
Sandworms of Dune
étant sorti en anglais il y a quelques semaines.
Il faut dire que je ne suis pas à plaindre. Certains Américains ont attendu cette suite pendant plus de 20 ans, le dernier tome du cycle de Dune datant de 1985. Cette suite avait de quoi être attendue, dans la mesure où la fin connue à ce jour était tout sauf une fin : certains personnages principaux échappent aux griffres d'une entité inconnue et atterrissent dans un lieu non défini, le reste de l'Ancien Empire voit revenir des furies sanguinaires de la Dispersion dont on ne connait pas l'origine, accompagnées de Futar dont la provenance paraît plus que confuse, le tout fuyant un Ennemi dont on ne sait rien. Pour en rajouter une couche, la toute fin est un passage de quelques pages mettant en scène Marty et Daniel, deux passionnés de jardinage fortement inspirés de Frank Herbert et sa femme Beverly, qui semblent avoir d'étranges pouvoirs mais dont le rôle dans le livre est plus qu'obscur, pour ne pas dire insaisissable.
Hunters of Dune
, basé sur les notes que Frank Herbert a laissé derrière lui après sa mort, répond enfin à tous ces mystères. Et de quelle façon ! J'ai toujours pensé à des idées farfelues et finalement banales, par exemple à l'atterrissage du vaisseau de Duncan Idaho dans un monde parallèle, voyant cela comme le début de l'expansion de l'humanité dans d'autres univers pour garantir sa pérennité, but ultime du Sentier d'Or du Tyran Leto II. J'ai aussi imaginé que Marty et Daniel étaient des Danseurs Visage qui avaient suffisamment évolué pour devenir eux-même des sortes d'êtres ultimes, capables de piloter l'univers selon leur bon vouloir. Et bien non, ces théories étaient fausses !
Ma première peur en lisant ce livre était de trouver des explications qui ne me conviendraient pas, soit parce qu'elles seraient volontairement trop tordues pour cacher la misère, soit parce qu'elles seraient incohérentes avec l'oeuvre originale. Sur ce point, j'ai été agréablement surpris. J'ai lu tout le livre sans jamais me dire que quelque chose cloche, sans tiquer sur le moindre événement. Rien que cela, à mes yeux, c'est un exploit. Mais cela ne s'arrête pas là. J'ai trouvé le scénario à la fois très pertinent et plein de surprises et de rebondissements. Il faut dire qu'avec la richesse et les nombreux mystères qui subsistaient dans le scénario des livres précédents, il y avait matière à créer une histoire avec ces qualités.
Donc
Hunters of Dune
est une grande réussite, certaines passages nous révèlent des faits surprenants, d'autres sont pleins de suspens, le tout étant en parfaite cohérence avec le cycle de Dune. Même s'il est inutile de le comparer avec l'oeuvre d'origine, chaque auteur ayant son style, ce livre est pour moi d'excellente qualité et répond parfaitement à mes attentes. Seul regret, il révèle tellement de choses que la suite et fin,
Sandworms of Dune
, s'annonce beaucoup moins mystérieuse. Tâchons d'espérer que Brian Herbert et Kevin J. Anderson sauront trouver les ressources suffisantes pour clore l'aventure sur un point d'orgue tout aussi réussi.